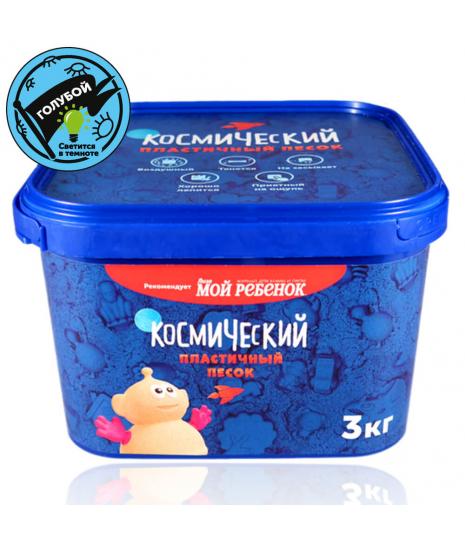 Color - blue, glows green. 3 kg
Vendor code:
KP3GZ
Number of buckets in the package (pcs) - 4
Number of buckets on a pallet (pcs) - 144
Package size (mm) – 412x412x170
Pallet size (mm) – 1260х835х1170
Easily sold goods
Guaranteed discounts for various terms of purchase
Delivery times for Russia and CIS countries - 1 day
A large three-kilogram pack of blue-colored Space sand, which glows green in the dark, will really surprise not only children, but their parents as well. In daylight, this is ordinary Space sand, but when you turn off the light, its blue color changes to a mysterious green glow.
Space sand is incredibly popular among parents looking for a way to teach their children through games. Children can spend hours enthusiastically sculpting figures with this sand. And parents prefer this kind of children's leisure activity because games with sand develop the creative taste of children, encourage them to express themselves, contribute to the development of their fine motor skills and speech, and strengthen the muscles of the hands.
WHOLESALE PRICE
BUY TO RETAIL
Product Video
If you have any questions, you can always contact us. Calloremailus!
Telephone in St. Petersburg: +7 (812) 309 56 58
Telephone: +7 (800) 700 41 26
Wholesale Sales Department
Extension number - 100
E-mail: 110@volshebniymir.ru
Address of St. Petersburg office:
"Volkovskaya" metro station
ul. Kasimovskaya, d. 5, "Kasimovsky" Business Center, 4th floor
Opening hours: Monday-Friday: 9:30 - 18:30